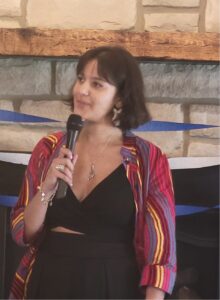 August, 2022
The YSHS Class of 1972 held it's 50th reunion over July 4th weekend, 2022, including Monday, the 4th, with the afternoon parade/crowds/mingling downtown and the fun family-fireworks-viewing on The Hill in Gaunt Park … just like it was 1965 … or 1999!
With the Covid pandemic continuing to be a concern, the organizing committee, led by Bomani Moyenda/Kevin D. Jackson with Sue Engle, Chris Stanley, Megan Trolander, Susie Pitstick Dapore, Allan Freeman and Ted Morgan, attempted to minimize the risks of extended close interactions. The reunion kick-off event was a Meet-and-Greet on Friday night (5-10pm) with refreshments along with blue-toothed music … and provided masks/hand sanitizer … in the friendly confines of our familiar former John Bryan School Gym. Roughly 30-35 classmates, from many corners of the U.S.A., attended along with spouses/family and friends from various classes of our high school era, as well as one of our former teachers, Joyce McCurdy. For several, it was 40-50 years since the last time seeing each other, … and everyone was ready for it! The hours were quickly filled … while a heavy rain passed through, knocking down the humidity to a comfortable level … ultimately for a weekend of wonderful weather.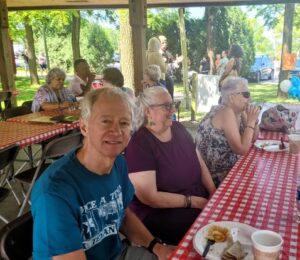 Saturday's main group get-together was a late morning brunch outside (under cover) at Young's Dairy. Perfect weather set the stage for continuing catch-ups mixed between photo sessions … amongst an abundance of meaningful recollections … of varying levels of acceptable 'memory enhancements.' Saturday afternoon and evening was free time to wander/visit YS sites and friends … and maybe even find a few needed naps. Most had small group dinner arrangements. Saturday finished with an after-dark bonfire at The Springs Motel (fully booked for class use) which was well-attended until late/the wood ran out.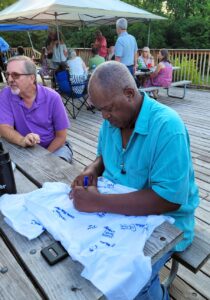 Sunday afternoon-evening was the reunion main event at Prether's Lodge in Clifton: a pre-dinner mingle, dinner by Kohler Catering and after-dinner T-shirt signing with more stories and photos. Clean Gene's DJing provided the perfect background vibe throughout the gathering. A pre-dinner program included round-the-room updates/intros by all … with much laughter and a few tears … followed by an infomercial/pitch for the 50th Reunion Leadership Scholarship fund (information on the scholarship fund had been included in previous email communications to the class). Ted (for class co-sponsors Sue, Bomani, and Mike Malone) introduced our 2022 Scholarship winner, Stella Lieff (invited with her mother), who had told Steve Grinnell during her award ceremony in May that she would like to be able to say thank you in-person to some YSHS alumni. After Stella's thoughtful remarks, the class gave her a standing ovation! Gwen Agna, a scholarship board member, was kind enough to take a break from her Class of 1970 reunion activities and stop by with a few words to close the show … as well as video-connect us with Brother Jake for a cameo appearance. A special acknowledgement was made to Mike Malone (unfortunately could not attend the reunion because of a medical issue) who made the generous offer to match all donations by the class to the scholarship fund. The memorable day of re-connections concluded with a second night of recaps around a bonfire at The Springs Motel. Many thanks to the many classmates who merrily pitched-in with all the setups and cleanups … and made for easy and enjoyable events.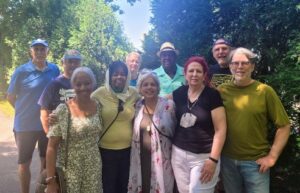 The consensus reunion feedback is clear that the Class of '72 is very appreciative of the 50th Reunion Leadership Scholarship Board (founding members Mike Hughes, '66, Jim Niswander, '66 and Penny Shook Estopare, '66 with current active chairperson, Steve Grinnell, '69 and Gwen Agna, '70), along with their partners at the Yellow Springs Community Foundation (Jennamarie Cox and Kat Walter), for their vision and dedicated (multi-year) effort to get this wonderful give-back scholarship program off the ground … and now into beautiful, sustained flight!
Ted Morgan
Class of 1972