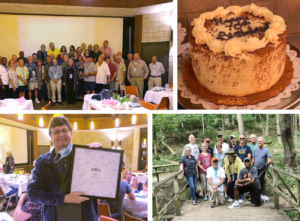 October, 2021
Celebration: definition.
"A party or other festive event celebrating something".
In the midst of the world wide Covid pandemic, not knowing we'd still be experiencing the tragedy a year later, and even today, our class made a great decision in 2020— to gather as many as possible back in our hometown and celebrate our 70th birthdays together!
AND CELEBRATE WE DID!!!! About 55 classmates and spouses gathered over Labor Day weekend (September 3-5), following safety guidelines, sharing 5 events over 2 ½ days, with no one really wanting to part ways when the time came Sunday afternoon. An initial welcoming gathering at the Grinnell Mill Friday evening, followed by a bonfire at the Perry 'homestead', lasting late into the night (maybe even early morning), got us off to fun start. Saturday morning brought a nostalgic hike through Glen Helen, followed by a great Saturday evening of reminiscing, watching a video of classmates' pictures produced by our own Jackie Brown, a delicious meal, a few gag gifts, time to share memories and create new ones! Our time together concluded Sunday morning, back at the Grinnell Mill, for a spontaneous "potluck" brunch, with delicious homemade goodies by Ted Bryant and Miki Colbert and memorable Bloody Mary's created by Fred Hollister.
And then it was time to again go our separate ways, this time a little teary, yet "fuller, richer and more complete" because of our shared experience! And today as I write this it's hard to believe it's been almost two months since we came together, back home, in the "Village", gathering to celebrate our "70th Birthday Bash" and share a unique experience one last time in our 70th year.
Huge thanks to Lisa Babbage and Jackie Brown for all their efforts in planning and creating this 'experience'; to Mark Perry for hosting a spectacular bonfire Friday evening that went late into the night/early into the morning; to all those who joined in the fun and hiked in the Glen under Jackie's guidance; for the generous in-kind donations of Tom Gray and Dennis Nipper; to Vicki Arnett for creating her delicious handmade and hand tossed salad for the pizza party at the Mill; to Vickie Allen for pitching in for clean-up duty Friday evening; to Paul Ford and Dwight Johnson for their help in putting the Mill back together Sunday afternoon; to everyone who donated breakfast goodies for Sunday morning's brunch; to Tim Champney and Tim Morgan who advocated for following science and making sure we all returned home healthy; to Tim Morgan again for always being 'on-call' for a consult so we followed the best practices in medicine; to Fred Hollister and Mike Scheper for always having encouraging words throughout the planning process. And finally to Charlie Stephens who traveled the farthest distance to attend. AND THE BIGGEST THANKS GOES TO THE CLASS OF '69 WHO GIFTED ONE ANOTHER WITH EACH OTHER'S PRESENCE TO CELEBRATE 70 YEARS TOGETHER!
Out of many, we are one….
Steven Grinnell,
Class of 1969
March, 2020
During the Spring, 2019, our Class was approached to join the efforts of the Classes of 1965, 1966 and 1968 in their "experiment in generosity" to support the 50th Reunion Leadership Spirit Scholarship, administered by the Yellow Springs Community Foundation. It was through the inspiration of Mike Hughes (1966) and the efforts of the Class of '66, the scholarship was created to provide financial support for YSHS graduating seniors who "demonstrate the qualities we believe will make the world a better place for future generations". Since then, three additional graduating classes have joined the 'experiment'.
Thanks to the tremendous planning efforts of Deb Casenhiser and Tom Gray, the Class of '69 celebrated our 50th class reunion over Labor Day weekend, 2019, when we became the most recent class to join the "experiment in generosity". For many, it was the first time reconnecting with old friends and classmates as we returned 'home' and celebrated coming back together. During our reunion, we realized we have more in common than we thought 50 years ago. We laughed, reminisced, and also remembered the 15 classmates who are no longer with us. Our graduating class was 84 members strong, and 36 were able to attend, coming from the east coast, west coast and everywhere in between. Especially meaningful was having several classmates who started with us in primary school but had subsequently moved, returned to join us for the fun-filled celebration in our hometown of Yellow Springs.
When we turned to the "business" of discussing participating as a class in the 50th Reunion Leadership Spirit Scholarship Fund, it became readily apparent the members were unanimously supportive. We established a first year goal of $4761 and are proud to have exceeded the goal. The Class of '69 members are eager to share its generosity with a YSHS graduating senior as soon as she/he is selected.
We're grateful to the preceding classes for inviting us to participate and are honored to continue supporting our hometown. Yellow Springs will always be a part of us.
"What we have done for ourselves alone dies with us; what we do for others and the world remains and is immortal."
– Albert Pike
Steven Grinnell,
Class of 1969