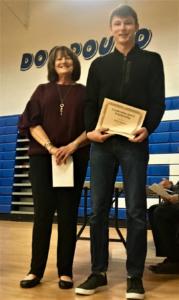 June, 2019
The YSHS class of 1968 celebrated their 50th reunion during the weekend of June 29, 2018. It was great to see classmates, remember those no longer with us, and to share memories of growing up in Yellow Springs. Thirty classmates attended the reunion, along with spouses and friends. Classmates traveled as far away as Oregon and California to spend a fun-filled weekend in Yellow Springs.
In April of 2019, the class of 1968 participated in the month long drive for the 50th Reunion Leadership Spirit Scholarship, along with the classes of 1965 and 1966. Thank you to all classmates who made contributions.
The 2019 50th Reunion Leadership Spirit Scholarship was awarded during the YSHS Awards Assembly on May 21, 2019. Pat Peters, class of 1968, made the presentation of the scholarship to Dylan Rainey. Dylan exhibited all of the qualities outlined in the description of the scholarship-he has given of himself selflessly for the benefit of others in the classroom, playing fields, school clubs and the greater community. Best of luck to Dylan at Ohio University next fall, where he will major in Political Science.
Pat Peters